Servicing Stack Updates can cause headaches for those with limited maintenance windows. These updates can be required as a pre-req for some monthly cumulative updates. Which means that your server will only see the SSU as an applicable update when the maintenance window rolls around. Since there is no required reboot it won't see this month's cumulative until the next time it scans for updates which is likely after your maintenance window even if you have the option to rescan for updates after a reboot checked.
So to try and combat this, one option is to create an ADR that picks up these SSUs and deploys them prior to your maintenance window. I won't go through all of the settings since those are mostly dependent on your environment. Make sure to test this thoroughly before deploying as most likely you will need to deploy these outside of regular maintenance windows.
Also after first writing this I have seen another solution that might work better for some, it uses scheduled tasks to rescan for updates after the install of an SSU- https://sccmf12twice.com/2019/05/the-cure-for-your-ssu-fever/
You can modify the filters to fit your environment\goals by filtering on OS etc, but to limit the updates to SSUs you can filter on the title and require that it include "Servicing Stack Update"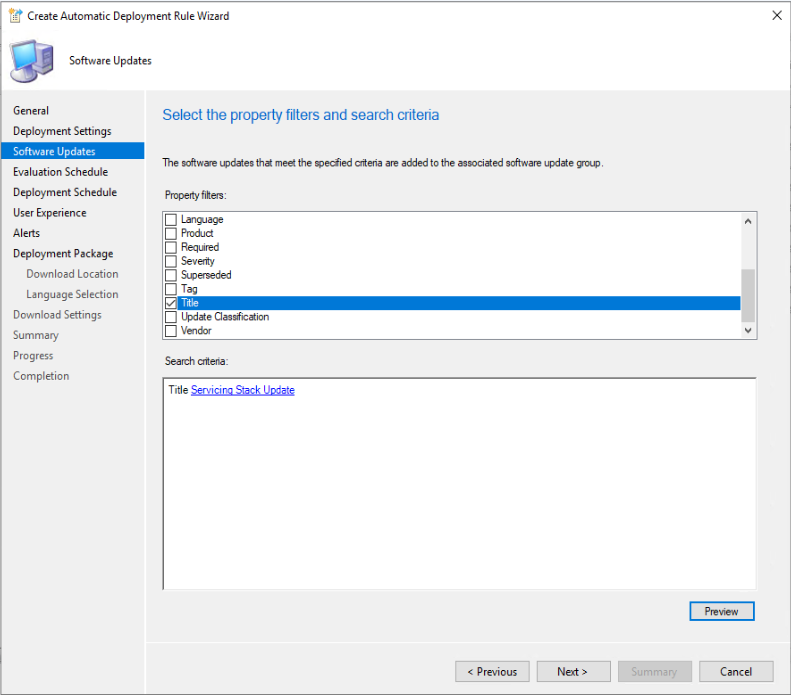 You can configure your schedule to something that makes sense for your environment, then for the user experience you will likely want to suppress reboots and ensure that installation will be performed outside of defined maintenance windows.